Recently, my daughter became engaged and now it has hit me- OMG I am a MOB!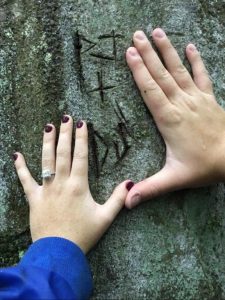 MOB =  Mother of the bride, kind of sounds like a bad word does it not?
Not necessarily-  not if you do not overly try to dictate the wedding or try to plan it for them.
In my case, having been in the wedding industry for 15 years, and having published four wedding magazines in that time, naturally I was honored when my daughter did ask for my advice in the planning process.
Not that she really needs it.
She has helped with our business since she was 14 years old working at our various bridal shows, assisting at the wedding venue we once managed- enlisting her then boyfriend- now fiance, into helping and even contributing to writing articles and editing our publications ( she is an English Secondary Education Major). Along the way she made many connections and friends in our industry over the years- who she has chosen as her elite dream wedding team! ( More to come about them in future posts) !
It did just occur to me, however, that many brides do not have this inside source.
They can, of course, get a copy of Virginia Bride to start their planning,  peruse our website.  and attend one of our Greater Virginia Bridal Shows.
But how do they know the proper time lines to get things done?
Here- we give you some helpful planning tips to begin your wedding planning journey by Jessica Bose of Main Street Weddings and Events.
Look for this timeline in our new planning section of Virginia Bride Magazine's winter/spring issue.
So don't stress-have fun planning your wedding!
Planning Checklist for the Ultimate Wedding
By Jessica Brose
Main Street Weddings & Events
Photos by Tim Souza Photography
Fourteen to Nine months out:
Start working on that guest list – the number of guests will play a huge role in the other items on this check list.
Work out your budget and PRIORITIZE your spending plan based on what is most important to you and your fiancé.
Hire a planner, if desired. If you're feeling overwhelmed and are losing track of time this is a great point in the process to involve professional assistance.
Create your #weddingsquad – pick your wedding party members.
Search and secure your dream venue! Virginia is a huge destination for weddings and the most amazing of venues often book a year in advance, especially for the spring and fall seasons. Once the venue is secure, your date is set!
Find your wedding style! Surf Pinterest, Instagram, and magazines for inspiration. Find colors and décor that really define your vision and keep a binder or pin board to share with your planner.
Book your wedding officiant
Start researching caterers, photographers, florists, and entertainment
Discover your wedding dress style by visiting a few boutiques. Be open to trying on styles that may not necessarily speak to you when they hare on the rack. Generally speaking, the dress shop girls know their stuff.
Celebrate with an engagement party!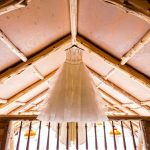 Eight months:
Hire your photographer and videographer. These vendors are generally have limited availability as most will only accommodate one wedding per day.
Book your entertainment. Whether you are looking for a disc jockey or band, they set the tone for the flow of your reception and you want to guarantee the best talent for this key element.
Say yes to the dress! Purchase your wedding gown.
Reserve your hotel room block. Select two or three hotels near your selected venue and contact them regarding a block of rooms for your out of town guests.
Create your wedding registry
Launch your wedding website
Schedule your engagement photo session
Seven Months:
Work with an invitation designer to create your Save-the-Dates and invitation suite
Start planning your honeymoon and make sure you are passport ready!
Shop for bridesmaids dresses
Book your florist
Schedule tastings with caterers and bakers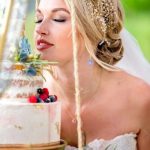 Six Months:
Send your save-the-dates
Determine your desired menu and book your caterer
Select your cake design and book your baker
Arrange for transportation from the lodging sites to the venue
Purchase wedding shoes and accessories and start your fittings
Schedule trials for your hair and makeup
Three Months:
Order your favors, if desired
Work on your music selections and reception event schedule with your MC
Purchase your rings
Make arrangements for your rehearsal dinner
Two Months:
Meet with your photographer and discuss specific shot list
Send out your invitations
Schedule a final walk thru with your venue, planner and caterer
Print your programs and menus
Enjoy a bachelorette and bachelor party!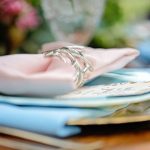 One Month:
Make it legit – get your marriage license
Mail your rehearsal dinner invitations
Visit your seamstress for the last dress fitting
Purchase your ABC license (if required) and start stocking the bar
Start sending out final payments
Create your day-of-timeline
Work on your seating chart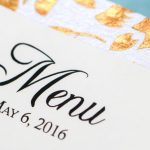 Two Weeks:
Share your day-of-timeline with all vendors
Provide final guest count to your venue, rental vendor and caterer
Print escort cards
Assemble welcome baskets and gifts for bridal party
Week of:
Pick up your dress
Pack for your honeymoon
Break in those shoes!
Do your best to RELAX, delegate, and take it all in!