Get it?! A cruise is a perfect honeymoon get away for a newly married couple. Whether it's a short weekend getaway to the Caribbean or a 12-night voyage, it is guaranteed that you and your spouse will be treated like royalty. Cruising is the perfect mix of adventure and relaxation, great after months of stressful wedding planning. We picked three of our favorite cruise lines with the best honeymoon packages to make your planning process a little easier.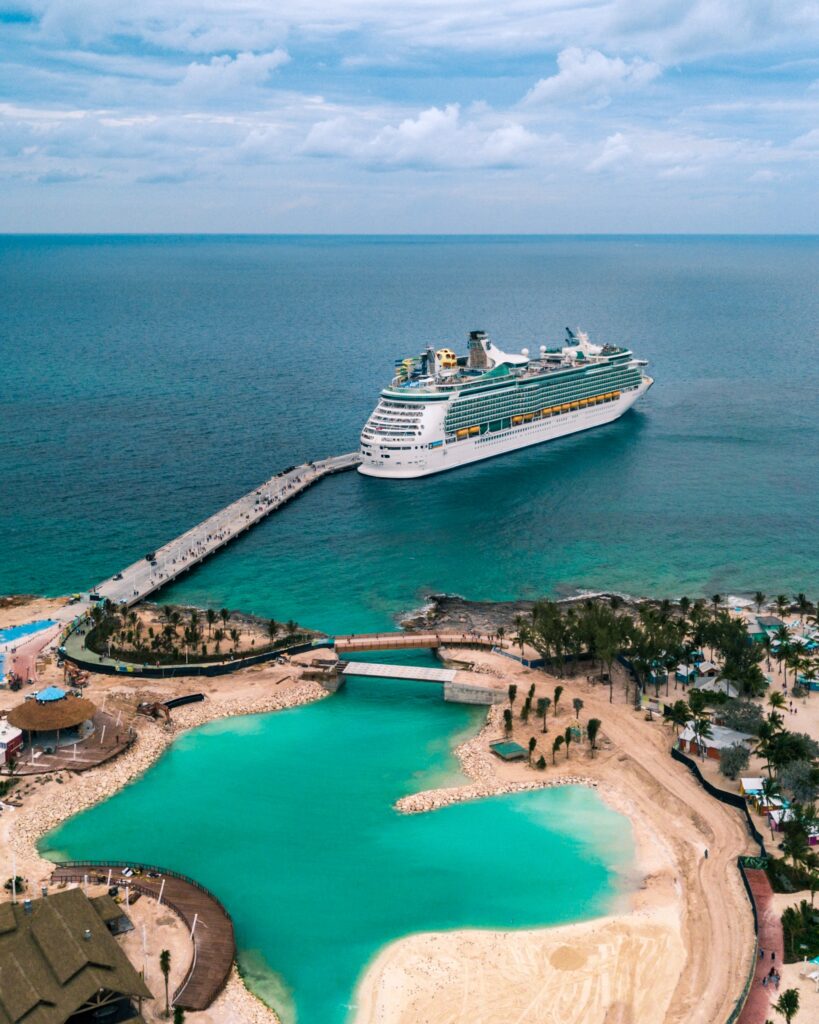 Royal Caribbean
Royal Caribbean is one of the most known cruise lines in the US and that comes with some advantages. The only cruise line on our list that sails out of Baltimore, MD, Royal Caribbean is great for couples who don't want to have to board a plane to get to their departure port. Baltimore is a short drive from most areas in Virginia, making it the best port for all Virginia Brides. Cruises out of Baltimore range from 5 nights to 13 nights with ports of call including Barbados, Nova Scotia, Charleston, and even CocoCay, Royal Caribbean's private island.
Royal Caribbean is almost always running a deal or discount, so keep your eye on the prices to get the best deal. A 7-night Eastern Caribbean cruise, visiting 3 ports, in June 2023 starts at $661 per person, making this cruise line the most budget friendly on our list. Most restaurants are included in this price, but soda and alcohol are not. Bottomless drink packages are available for purchase.
Everything from room decorations to champagne packages are available to add on. One special feature Royal Caribbean offers is a "Honeymoon Registry." This way, loved ones can purchase dinners, drink packages, spa treatments, and much more for the couple. This is a great idea if you are already stocked up on traditional registry item or prefer experiences over material items.
Princess Cruises
Arguably a smaller cruise line, Princess does not disappoint! The choice of departure ports fewer than Royal Caribbean, but there are still 8 options leaving out of the US. There are many additional departure ports in other countries. Destinations range from the Panama Canal to Europe to South American & Antartica. Caribbean cruises are available from 4 days up to 21 days and everywhere in between. Caribbean ports of call include Turks & Caicos, Belize, Aruba, and Princess Cays, the company's private island.
A 7-day Eastern Caribbean cruise including 3 ports in June 2023 starts at $739 per person. The cruise line offer 3 different packages to choose from: Princess Standard, Princess Plus, and Princess Premier. Each includes a different level of amenities and service. Many meals, snacks, entertainment, and actives are included, but alcohol, shore excursions, and spa treatments, among other things, will come at an added cost.
Princess offers an array of romance packages available to add on to your cruise experience. The Honeymoon Packages range from $299 to $549 and include champagne, a breakfast on the balcony, and spa treatments.
Celebrity Cruises
Celebrity Cruises sets themselves apart from their competitors by their culinary experience and world class service. With only 12 options for departure ports, and only 3 in the continental United States, Celebrity hosts a smaller fleet of ships and destinations. Destinations include an array of ports in Europe, Mexican Riviera ports and even some in the Galapagos. Caribbean cruises range from three nights to 12 and include ports like Antigua, Key West, and Grand Cayman.
An 8-night Eastern Caribbean cruise that visits 5 different ports, sailing in June 2023, averages $789 per person with their current sale. As the most expensive option on this list, Celebrity Cruises is definitely worth the higher price. Almost all dining on board is included, the only thing excluded are the specialty restaurants. Like their competitors, they offer two different packages, each with different levels of amenities. If you're going on a tight budget, there's also a cruise-only rate that excludes the amenities offered in the packages. Casino entry, room service between certain hours, and nightclubs are all included in your cruise fare. Small things like these set Celebrity apart from their competitors.
Celebrity offers 3 generic celebration packages. The Classic Package includes a bottle of wine, a bouquet of flowers, and a dozen chocolate dipped strawberries.
If you are planning a wedding in Roanoke Virginia, Richmond Virginia, Fredericksburg/Northern Virginia, The Shenandoah Valley, Coastal Virginia or in Charlottesville/ Lynchburg Va. we can help with your wedding planning and ideas.