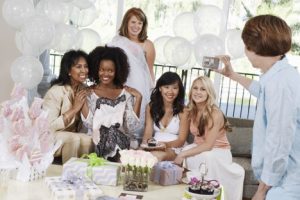 If you have been given the task of planning a bridal shower, there's no doubt that you want to throw an unforgettable event to shower the bride-to-be with love, happiness, well wishes and memories that she will cherish forever.
From the activities to the décor, there are a lot of factors that need to be taken into consideration when it comes to planning a bridal shower. Trying to tie all of the elements together and ensure the event is a huge success can be challenging. So how can you make sure that everything comes together and that the soon-to-be Mrs – and all of the guests – have a wonderful time? – By choosing a theme! With the right theme, all of the other elements of the event will fall into place. Coordinating the entire shower will be a lot easier for you, and you'll make the bride-to-be blush with happiness and gratitude.
Having trouble choosing a theme? Here are some creative ideas to consider…
Jill and Jack
Many modern brides want to include their future husband and other important men in their lives in all of the wedding-related festivities. If the bride you're planning a shower for isn't traditional, consider a Jill and Jack theme that includes both women and men.
Include activities that will get both the bride and the groom – and all of the guests – in on the fun. For example, you could play your own version of the Newlywed Game and have the ladies create wedding gowns out of toilet tissue on male models.
Candy Land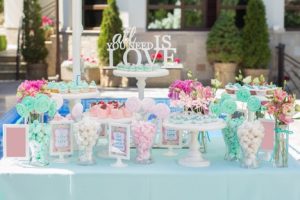 If the future bride has a sweet tooth, host a Candy Land-themed shower.
A vibrant color scheme will serve as the perfect backdrop for this shower. Include activities relate to candy; have a blindfolded candy taste test and the person who guesses the most candies correctly wins a prize, or have everyone make homemade candies, such as chocolate lollipops. Of course, this theme would not be complete without a candy buffet! Set out an array of candies and invite guests to make goodie bags to take home.
Cooking Class
If the guest of honor is a self-professed foodie, a cooking class is a bridal shower theme that she would love.
You could arrange to have a professional chef come to your location and get all of the guests involved in cooking a meal together. Include recipe cards with the invitations so that each guest can share their favourite recipe with the future Mrs and compile all of the cards in a personalized cookbook.
A Day at the Spa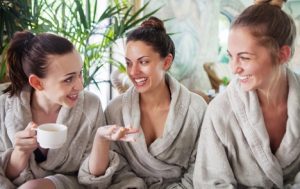 What bride doesn't need pampering before her big day? With a spa-themed shower, the bride-to-be and all of the guests will have an opportunity to relax and unwind.
You could host the shower at a day spa and plan for everyone to have manicures, pedicures, massages and facials. If you love the idea of pampering but want to keep your budget in-check, have a spa day at home (or another comfortable location.) Ask guests to come in bring comfortable attire, such as bathrobes or sweats, and offer various spa supplies, including face masks and tools for manis and pedis.
With a little creativity, you can choose a bridal shower theme that will guarantee the future bride and all of the guests will surely have an incredible time that they won't soon forget.