Virginia Bride Magazine hosted their 12th annual Greater Virginia Bridal Show – yesterday in Fredericksburg at The Hospitality House Hotel in Central Park .
Over 75 vendors were on display with services, products and samples to talk with hundreds of guests and couples who attended.
The highlight of the show was the $35,000 Dream Giveaway that is held each year at this show. Right at the conclusion of the show at 5:00 P.M. – Virginia Bride Magazine publisher – Angeline Frame- gathered the participating Dream Wedding Vendors on stage to draw the winning bride. With hundreds of guests looking on- David Canty of Memorable Moments- randomly drew d the winner out of hundreds of entries.
We would like to congratulate the winning couple – Tiffany and Brian of Montross, Virginia.  This is a great story as each year we make one lucky couple's wedding truly a dream wedding by putting together an amazing package from trusted long time wedding businesses. This year there was a magical end to this story- when the bride arrived at the show she realized that she had forgotten her ATM card and only had $2. A complete stranger in line handed her $5 so she could go in. Obviously this was meant to be.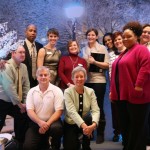 To see what the couple won – visit our homepage and click on the Fredericksburg Dream Wedding details.
Virginia Brides still have a chance to win a $35,000 Dream wedding at two other Greater Virginia Bridal Shows coming up on January 19 at the Roanoke Civic Center and on February 16 at The Richmond Raceway Complex.  You could be next!