What Wedding Dress Silhouette Is Right for Me?
By Krisna Garcia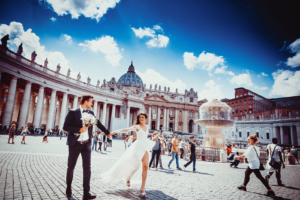 Every woman wants to look her absolute best in her wedding dress, but as it is probably her most important wedding purchase, buying the perfect wedding dress can be an exciting but quite challenging task. Odds are that you have learned how to dress your body in pieces that flatter you and have learned to stay away from styles that aren't so flattering – but what about when it comes to wedding dresses? You already know that a wedding gown has to suit you, your personality, and style, but in a sea of white dresses, finding a wedding dress can be intimidating because you have never even tried one on before and so you don't really know what looks good on you and what doesn't. The good news is that there are some general tips that you can follow based on your body type that can help you find the right wedding dress silhouette for you: 
Hourglass
You have an hourglass body type if your shoulders, bust, and hips are roughly the same size but your waist is substantially smaller – like an hourglass! You might want to look for a dress with a detailed belt or midsection that accentuates your small waist. Or look for a dress with a structured shape like a fit-and-flare, trumpet, dropped waist, or mermaid style that really shows off your amazing curves. Depending on height and proportions, an hourglass shape can wear almost anything! However, if you're petite, you might find yourself getting lost in all the material!
Pear
You have a pear body type if your hips are wider than your shoulders and bust. A-line dresses and sheath style dresses are good options for this body type when paired with things like a flattering waistline, train, and neckline. This allows you to accentuate your waist and also highlight your curves in your hips and thighs. A ball gown also isn't completely out of the question as this option can help you disguise your curves instead of accentuating them if that is what you are going for. Emphasize your waistline or wear a jeweled belt and ribbon on the fitted waistline. They will make you look slimmer and shaped.
Petite
You have a petite body type if you are short – specifically 5'3 or under. When it comes to petite wedding dresses, the length is not the only thing that matters. Odds are that if you are petite, you are used to having some style restrictions due to your height – this can be true when it comes to your wedding dress too. Overall, you don't want a dress that will overpower your small frame, so it might be a good idea to avoid huge ballgowns. Instead, look for something lighter and with more structure like a sheath gown or a trumpet gown that will accentuate your smaller shape. These styles emphasize bust and hip, so they are the best wedding dresses for petite brides who want to show off their feminine curves. 
Athletic
You have an athletic body type if your body is relatively straight and your shoulders, bust, waist, and hips are generally around the same size. Most women with athletic and lean body shapes want to give the illusion of more curves on their bodies, and there are dresses that can help with that! As these women have a lot of great physical features to highlight in the right wedding dresses, they should look for dresses with a layered skirt or with details like lace and beading. Other options would be the dresses with ruffles on the upper body, or other elaborations to add some dimension to your shape. Sheath and A-line dresses are ideal for this body type. 
Apple
You have an apple body type if your shoulders and bust are larger than your hips and legs. The biggest problem that women with this body type is dealing with their bust, so you will need to really pay attention to the neckline of the gown. It's probably a good idea to look for a dress with enough coverage and support to keep you comfortable. When it comes to shape, look for a dress with a fuller skirt and smaller waist to add some more balance to your shape between your bust and your hips. A-line gowns have an advantage over other silhouettes, for example, the full skirt of the A-line can also hide a larger lower body, or create the illusion of curves on a narrow frame.
Inverted Triangle
You have an inverted triangle body if your shoulders and/or bust are much larger than the other parts of your body. If you are petite and your body has a triangle shape but want to appear taller then pay attention to opt for a constructed style that will stay in place, not a slip style one. A mermaid dress or a ball gown one would be the best fit in your case. It would be a great idea to also add a separate bodice or sash, especially if you don't have natural curves. This way you'll put an accent on your waistline and create more contour to your body.
At the end of the day, if you are set on a specific type of gown then you should go for it! However, even if you are sure you picked your style, neckline and body type from many stunning bridal gown options, you also might find that it does not look exactly how you pictured it would if it's not the right fit for your body type. So don't be afraid to try on different things because you just might find that your perfect dress is something you never expected. You'll maybe find a wedding dress that not only suits your body type, skin tone, and style but also makes you feel happy, special and beautiful. Some dresses don't look like much on the hanger but look great on. The moment you try it on, you will know if it is for you or not!