Bridal Makeup & Hair Tips
by Carolyn Laura for Modern Bridal Studio
Temperatures are rising and heat resistant makeup and hair are on every summer bride's mind.  We have been working with brides since 2007 and would love to share a few of our tips with you.  Our clients love a natural look that is uniquely customized to fit their vision.  One of our favorite parts of the event is to see the photos afterwards. Soft romantic makeup and hair that lasts all night is an art and here are a few of our favorite tips.
Here are a few questions we hear most often:
How to make the look last all night?
Makeup  – The trick that bridal professionals use is sheer layers of HD makeup.  For the natural glowing look, the foundation is key. I recommend witch hazel to prep oily skin and rose water to prep the skin for the drier type.  I love to set the makeup with the Laura Mercier loose powder. It will give you a finished but not dry look.
Hair – Have your hair blown dry with a volume enhancing mousse the day before the event. Carry a small hair spray with you, we recommend Oribe for fine hair. Mostly importantly, keep your hand off your hair. The oils in your fingers will break down the curls quickly.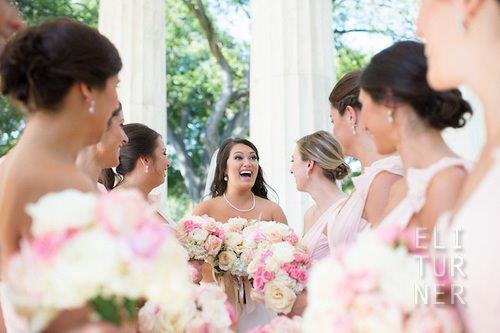 Photo by Eli Turner Photography
I want to look like myself, how much makeup do I need to wear for photography?
Very natural makeup photographs very well.  The style of your photographer will also largely effect how the makeup looks in photos. Take a look at how the makeup looks on your photographer's site. You may notice that they love to photograph in bright lights or saturated hues. We recommend testing out the makeup during an engagement or bridal shoot to see how your makeup will turn out and then adjust accordingly if necessary.
What is the big deal about airbrush makeup?
Airbrush is another form of professional foundation.  I love airbrush for the summer months as it goes on very smooth on top of a thin layer of foundation or concealer.  We have tried and tested all of the formulas and have found our favorite that works for every skin type. Airbrush will give you another sheer layer of coverage to photograph nicely for hours on end.  Normally airbrush will not appear any heavier than HD foundation in person.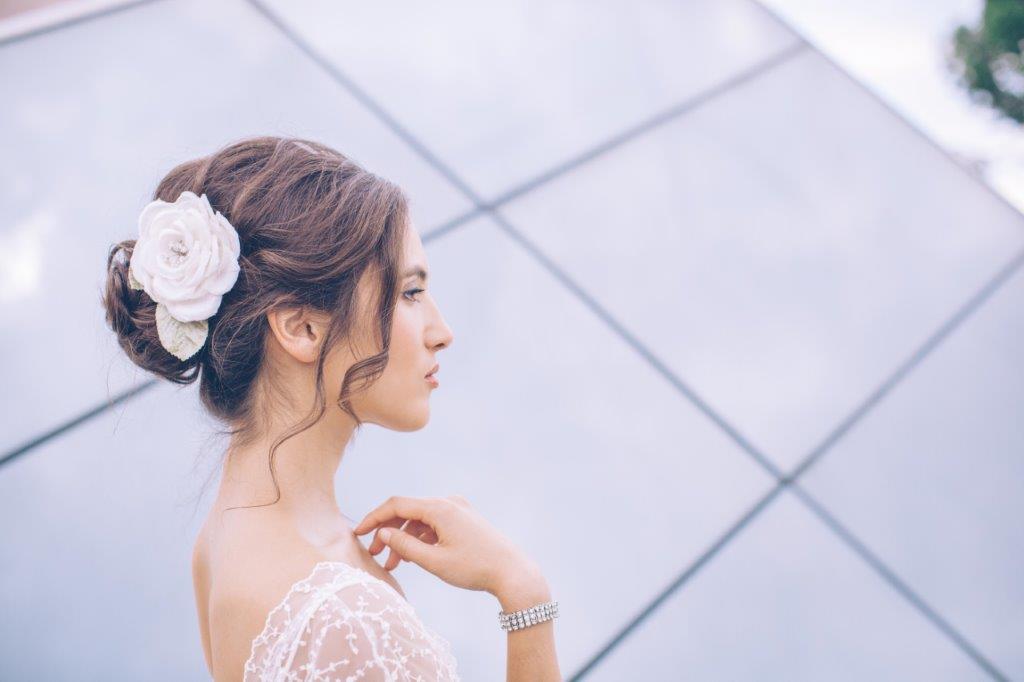 Photo by Anthony Poff Photography
My hair is fine and flat is there any hope for a down style?
Custom extension would be a great security blanket for this style. It will add volume and give the fine hair something to hold on as the hair is curled with extensions. It will add preventative measure for lasting fullness. We would recommend having a set of extensions made for you by a professional, to match color, length and hair cut style. The extensions will last for you for years and will be a great addition for any formal event you attend. A customized set of clip in extensions will cost you around $300+ in the DC area.
What is the ideal touch up kit?
A lip color, a waterproof concealer, oil blotting papers, and a touch up powder
Make sure that you do not have SPF in your products and that they are HD quality.
I hope you have gotten a few ideas from this post! The easiest way to feel confident in your wedding day beauty wear is to find an artist that specializes in the look you envision for your date. A trial run is very important to test out the experience and the look with the chosen artist and make sure that you are a good fit.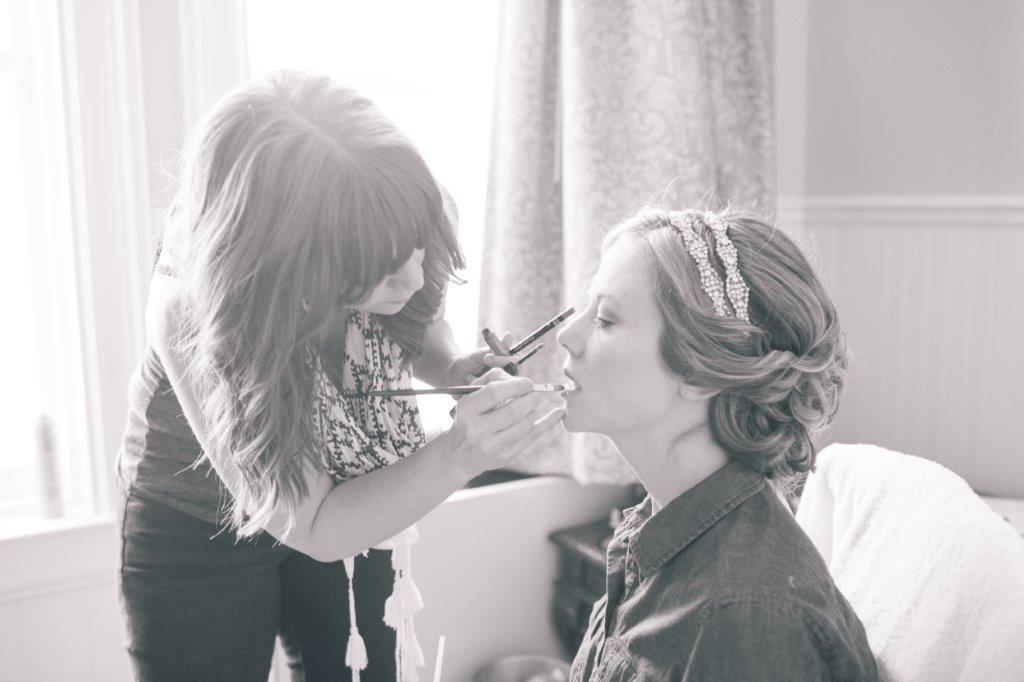 Photo by Astrid Photography
Stay tuned for the article next month on The Flawless Trial Run
Carolyn Laura has always been lover of education and advancement, she likes to make her own rules. With 17 years of professional experience in the industry and a DC bridal following, Modern Bridal Studio was founded. Carolyn is behind the brand managing 25 artists for events. The team's work is published on a bimonthly basis in modern bridal publications. She is currently a freelancer with CNN & HLN and regularly performs grooming for the nations capital for all types of media.  
She is a developer at heart and loves to teach. She held positions as the Education Coach at the Aveda institute and as a regional corporate beauty trainer with Walgreen's. After years in the business Carolyn is still in love with what makeup can do for the spirit, bringing her talent, professionalism & enthusiasm to every job. She is certified as a master esthetician and licensed educator with a focus on holistic health and wellness. She is a reiki master, ICF certified life coach and also loves to teach yin yoga. Visit her Hazy Lion site for more information on yoga and coaching services. She also produces makeup, hair and business workshops at her studio location in Old Town Alexandria.