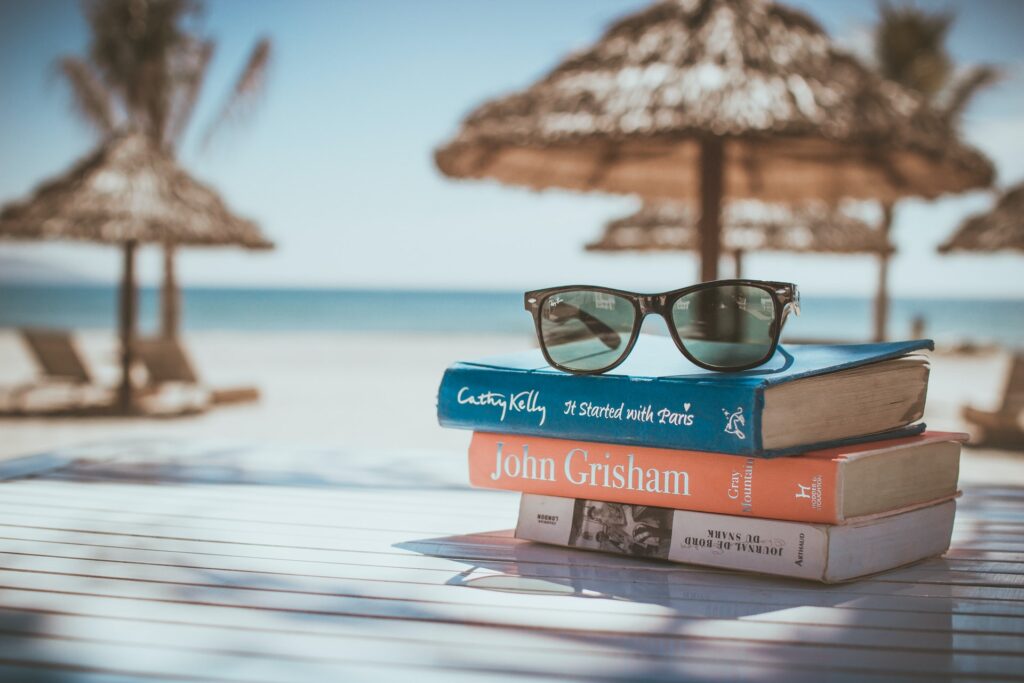 While you're surely going to spend a lot of time on your honeymoon doing things that honeys do, there's also going to be some call for relaxation between exciting adventures, dining on amazing meals, drinking incredible wine, and couples' time.
In fact, I highly recommend doing a lot of relaxation time on that special trip – that once-in-a-lifetime moment. Why? Because as you relax between outings, you'll start to emotionally settle into this new life together, and that's a really good thing.
So, with that in mind, here's a list of the some of the most recommended reads to enjoy on your honeymoon.
The Wedding Shop
A beautiful story for all lovers, the "magic" of The Wedding Shop, by Rachel Hauck, is the perfectly delightful tale of two women who run the same wedding boutique, 80 years apart from each other. Both have struggled with finding a love that will last, making their jobs in the shop difficult, but as time passes, they both discover the beauty of opening their hearts to the unknown and experience an incredible life, thanks to the very shop in which they work.
Eleanor & Park
Written by Rainbow Rowell, Eleanor & Park is the tale of high school misfit sweethearts by those names. The sweet rush of love, earth-shattering moments of conflict in romance will pull you back to the time when such love was so vivid and world-changing – perfect for your honeymoon trip as you celebrate your own true love. Eleanor and Park are dazzled by each other's differences and similarities while they navigate romance in the halls of high school and home.
The Beach Club
The Beach Club, by Elin Hilderbrand, is the delightful read you've been looking for to enjoy on your beach honeymoon. Elin Hilderbrand has been dubbed the Queen of the Beach Read, and this story, set in Nantucket, leads the way. The story centers on characters who work at The Beach Club, a hotel on the island, as their lives intertwine throughout a summer of hurricanes and failed plans.
Eight Hundred Grapes
Laura Dave is known for fiction you just can't put down, and Eight Hundred Grapes lives up to that reputation. The book centers on Georgia Ford, a bride ready to say "I do" in just one week from the opening of the book – and follows her through the challenges of a life-altering secret her fiancé kept hidden all this time. Navigating the confusion and betrayal, she returns home only to discover another secret at the family winery. The page turner is filled with love, romance, mystery, family, and wine – and keeps you entranced to the very last sentence.
Three Hours in Paris
Another can't-put-it-down read comes from author Cara Black. Three Hours in Paris takes you back to 1940 with American markswoman given a not-so-simple singular task by the British Intelligence office. She's here to assassinate Hitler. Each page keeps you guessing, each sentence leading to that final moment of the will-she-won't-she succeed, even if you already know the real history behind the war. Follow as the adventure unfolds.
The Guest List
Lucy Foley takes readers through the incredible scenery and life of an island population off the coast of Ireland in The Guest List. A handsome television star and his beautiful bride-to-be come for an intimate gathering of family and friends before the big day and excitedly prepare for the big day. That is, until a body appears and everyone is suspect. A fun twist on the cozy mystery and romance genres mingled together – and an absolute can't-put-it-down read!
The Little Shop in Cornwall
By Helen Pollard, The Little Shop in Cornwall is a romantic read set on coastal Cornwall, England, where sleepy country living and small towns welcome new beginnings. Claudia, the heroine, comes to the Cornish Coast for her own new beginning after she quits a corporate job and leaves a loveless marriage filled with strife and unending misery. Now, she wants to do something new – not just leave behind the corporate world and the husband, but start fresh with a little shop and, whether she planned it or not, a possible new love with a handsome widower.
The Grace Kelly Dress
The Grace Kelly Dress by Brenda Janowitz offers all the romance and beauty you could hope for from a book titled for the ineffable Grace Kelly, famed actress and eventual Princess of Monaco. The book follows the lives of three women in three generations. Rose, a skilled seamstress who creates these Grace Kelly wedding dress look-alikes, Rocky, a CEO rebel bride, and Joan, Rocky's mother intertwine lives as the story unfolds.