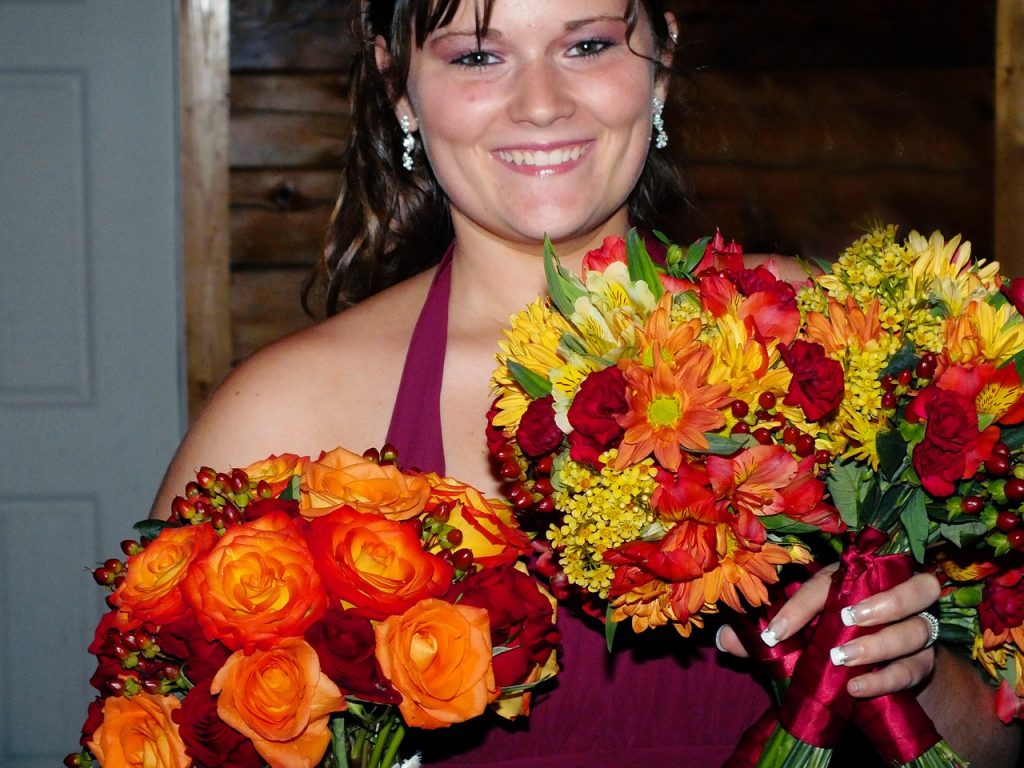 Autumn has so many benefits from the perfect Virginia fall foliage to the cooler temperatures and crisp blue skies. November is a perfect month for marriage.
What a Relief
The temperate weather is perfect for indoor or outdoor weddings! And now you can give your bridesmaids embroidered shawls in beautiful colors from teal to pumpkin orange or any color just about. And they can continue to enjoy them at tailgate parties or strolls in the park.
What Colors!
The colors for inspiration are everywhere. Gowns of gold. Gowns of teal. Mossy gowns. Fall flowers are practically spring like after the hot weather has finally departed. Pansies are perfect in every color imaginable able to lay out rivers of colors to make your special day look like a scene from Wizard of Oz. Every setting can be brightened with big buckets of mums. The showiness of these flowers can out shine the tired summer alternatives.
Go Town and Country
November is most perfect for a countryside barn wedding. Candied apples, hay bales, hay rides, and effusive bounties of pumpkins and gourds are all things you can bring into your country wedding.
Leave an Impression
Fall weddings leave an impression, especially when you can use silk leaves hanging from wine vines or strewn down the aisle. Leaves are a pretty and easy way to theme your invitations, place markers, and more. There are leaves made for writing on, for decorating, for holding and serving food, and leaves as ornaments for gifts. They are pretty and popular. And in no short supply for your special November day.
Cheers to November
You can celebrate with hearty brews and fine wines. Weddings in wineries and breweries are perfect and especially perfect in Virginia. Be refined or casual, large or intimate, you can find the perfect place to host your wedding and the perfect pairing of wine or beer.
So don't say No to November, say Yes! There is no shortage of inspiration and whether you host your wedding in a barn, at a plantation, in a garden courtyard, at a winery, Virginia has an endless supply of perfect autumn venues.
– Virginia Bride Magazine features the best Virginia weddings and Virginia bridal shows. Find it all in one place. Check our blog posts regularly for the latest show information.