6 IDEAS TO FABULOUS FROM START TO END the Reception!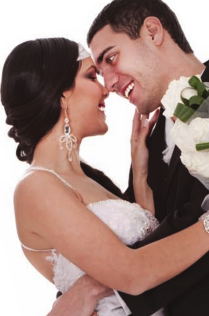 1. FIRST DANCE. Have your wedding party, or all of your guests, join you after the first minute of your song. Then it becomes a heart-warming moment for EVERYONE.
2. WEDDING PARTY INTRODUCTIONS
Personalize your intros with music
that reflects YOU and your wedding
party. Provide a funny bit of history
about each person, or your own
love story! Your guests will learn
more about you and your bridal
party and feel more engaged.
3. LIGHTING
Use uplighting to create emotion, drama,
and mood for your reception! Changes
in color lighting from dinner time to
dance time create an atmosphere that
compels your guests to have the time of
their lives right along with you!
4. FATHER / DAUGHTER DANCE
Invite all fathers and daughters to join you and
your dad after the first minute of the song. This
gives you two a special dance alone, while
including more of your guests in the celebration!
Two songs can be mixed seamlessly to signify
the change.
5. PERFECT PLAY LIST
Survey your closest friends and
family for their music faves. A
great DJ/master of ceremony
will do the rest by creating a
play list that is sure to provide
happy feet to ALL the peeps in
your party (while still honoring
your DO and DO NOT playlist)!
6. FUN & GAMES
Play a game with friends and family. Include
them in a trivia game about the two of you
(who says "I love you" more, who takes
longer to get ready, etc.). It's a great
way to get everyone involved and
a fun way for your guests to learn
more about you!